As the Direct-to-Consumer (D2C) market on Shopify continues to grow, more and more merchants are turning to the platform to build their e-commerce stores. Among these merchants, fashion stores are a significant portion, with nearly 10% of all merchants on Shopify being fashion stores. With the fashion industry being a multi-billion dollar industry, it is no surprise that fashion stores are turning to Shopify to set up their e-commerce shops. Last year, fashion stores on Shopify generated over $10 billion in sales. This shows how successful fashion stores are on Shopify.
Why do Fashion stores need Shopify Apps?
Fashion stores need to stay on top of the rapidly-changing industry, and Shopify apps provide them with an arsenal of features that can help. Streamline operations, enhance customer experiences and increase visibility; these are just some benefits fashion stores will gain from utilizing powerful new tools such as automated marketing functions, inventory tracking software & product management systems. Through analytics & AI insights they'll have a comprehensive understanding of their customers for tailored engagement – leading to increased sales potential! The future looks bright for those fashion innovators taking advantage early – be sure your store isn't left behind!
What you should look for or consider while choosing Shopify apps for your Fashion and Apparel store?
When choosing Shopify apps for your fashion store it's important to consider how the app will integrate with your existing tech stack, such as point-of-sale systems, accounting software, and inventory management. Look for app developers who offer good, personalized, and prompt customer support. Additionally, you'll want to be sure the app won't cause your store to load slowly or affect your SEO.
It's also important to ensure the setup process is easy and doesn't require any code. Many app developers offer a free trial period, so you can test out the features before committing to a purchase. This is a great way to evaluate the app's functionality and make sure it meets your needs.
Categories of Shopify apps for Fashion stores
The Shopify platform provides a host of apps to help fashion stores grow their business. Here are some of the categories of Shopify apps for fashion stores and the most popular apps within each category.
A. Fulfillment
Printful is a print-on-demand fulfillment and drop shipping service, which allows you to create custom-made products with your designs. It is an easy-to-use app that supports multiple printing methods, including digital printing, sublimation, and embroidery. With Printful, you can easily design, customize, and print products with your brand logo and images.
Printful is highly rated for its convenience and customer service. Boasting 4.6 stars from over 4200 reviews, customers have praised the app's design capabilities, product options and pricing structure – with suggestions to add patches cut sewn and applique features as well! Most notably are those in store who love that they can sort their product templates by "already in store" which has been recognized as an extra helpful feature of this established printing provider.
Shipway provides a comprehensive shipping solution, empowering online businesses to optimize their fulfillment processes. The app seamlessly integrates with multiple carriers and allows users to quickly create discount codes, customize labels, and consolidate orders. Plus, it makes order tracking simple – giving you peace of mind when sending out deliveries!
Shopify customers have responded positively to Shipway ‑ 5‑in‑1 Shipping App, awarding it a 4.9 rating with over 400 reviews! From speedy customer service responses to helpful resolution of escalations – the app has received full marks for its reliable and supportive support team. The intuitive platform is also tailored perfectly to fulfill eCommerce needs making this an obvious choice from satisfied shoppers looking for a shipping solution that stands out from the crowd.
B. Sales & Marketing
Klaviyo offers a powerful suite of tools to help fashion stores build lasting relationships with their customers. This advanced email marketing and automation platform features automated emails, segmentation capabilities and integrations with leading apps such as Facebook, Instagram and Google Analytics – enabling retailers to track customer behaviors and purchases for greater insight into consumer needs.
Overall, Klaviyo has 4 ratings and over 1.6k reviews. Customers are satisfied by the fast customer service, reliable products, and seamless integration with Shopify. However, some customers have expressed concerns about the increasing prices and the long wait times for customer support. Klaviyo is a great app for those who have the time to take advantage of all its features, but it may be too expensive for those who don't have the time to make it worth their while.
ReConvert Upsell & Cross sell offers fashion stores the unique opportunity to increase their revenue by displaying targeted product recommendations on each page. This straightforward application provides a range of features and analytics, allowing users to customize campaigns through A/B testing while also obtaining real-time reports that enable them to optimize strategies for maximum profitability.
The app on Shopify has earned a stunning 4.9 rating and 3,500+ glowing reviews from users across the globe. Its user-friendly interface combined with comprehensive support capabilities have been praised by customers for their effectiveness in increasing Average Order Values (AOV). Additionally they've remarked that customer service is incredibly responsive to any queries or challenges faced while using the software – proving invaluable as many of these same customers have reported successful conversion boosts since implementation!
C. Analytics and Reporting
SuperCEO is an analytics and reporting app that can help fashion stores to track and measure the performance of their store. It is a comprehensive application with powerful features such as customer segmentation, customer retention analysis, marketing performance, sales funnel analysis, and more. With SuperCEO, you can easily track customer acquisition, sales, and revenue and understand the behavior of your customers. This app is a great way to stay ahead of the competition and to make sure that your store is running efficiently.
Latest on the block, SuperCEO's success on Shopify has been remarkable, with an average rating of 5 stars out of over five reviews. Customers have lauded the intuitive setup and unbeatable quality information offered free-of-charge by this analytics plugin. Furthermore, they've appreciated SuperCEO's responsive team for their continued improvement efforts.
D. Personalization
ModeMagic Store Conversions is an advanced app designed to bolster fashion store conversion rates. This cutting-edge tool provides user-friendly features such as personalized product suggestions, the ability to adjust prices dynamically and more, allowing merchants in the industry to boost profitability with ease.
ModeMagic is a popular app on Shopify with an impressive rating of 4.9 and over 540 reviews. Customers have praised the app for its easy user-interface, great choice of badges, and helpful customer support. Reviews have also mentioned how the labels and banners have helped boost sales on their websites. ModeMagic also has an in-house talent that helps guide customers with their designs.
Glood.ai is an innovative app that gives fashion stores a fruitful edge in the industry, allowing them to customize their campaigns and product recommendations for increased success. Analytics features provide insights into optimization methods ensuring sales efforts reach maximum potential – giving customers personalized experiences from the start!
Glood is a popular Shopify app with 4.8 ratings and over 189 reviews. Users have praised the app for its ease of use and great customer service. Many people have commented on how quickly they were able to fix small tweaks and the placement of the widgets on the theme editor. Additionally, many users have commented on how helpful the technical support team was in setting up the app according to their needs. Overall, Glood is a great Shopify app with many satisfied customers.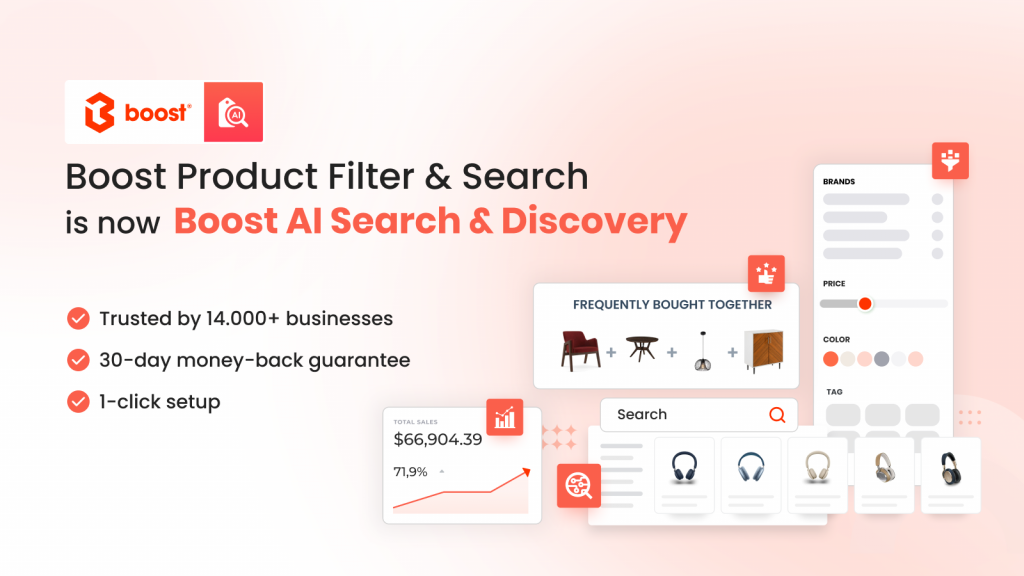 Boost AI Search & Discovery (BSD) is a complete product search and discovery suite committed to creating the best possible tool to help merchants and partners generate more revenue with less effort.
AI-Powered Search embraces cutting-edge AI technology in search algorithms to make site search more efficient in delivering relevant and accurate results.
Product Recommendation covers the Homepage, Collection page, Product page, & Cart page and includes the top 8 popular recommendation types with Machine learning (ML) algorithms in the background.
Visual Merchandising allows online merchants to modify the results of all keywords and the product display order on a particular collection page.
Advanced Analytics for better planning and decision-making with first-party data and insightful metrics.
With 5-star support, lightning-fast performance, and air-tight data security, Boost AI Search & Discovery is a must-have tool to optimize conversion rates, upsell and cross-sell for all online businesses.
E. UGC, reviews, and social proof
Opinew Product Reviews UGC is the ideal app for fashion stores, providing an effective solution to collect, manage and display customer ratings & reviews. Customers can easily rate products they've purchased and share their experiences with friends on various social media platforms. It's a great resource allowing shoppers to discover what fellow customers think of garments before making an informed decision – bringing added confidence in product selection!
Opinew Product Reviews App UGC on Shopify currently has over 1.3k reviews with a rating of 4.9 stars. This is due to the app's great features and customer service. Customers have praised the app for its ease of use, customizability, automation and free services. Many customers have also expressed their satisfaction with the fast customer support which helped them import reviews for their products.
F. Sizing and fit
Avada provides an invaluable service to fashion stores, helping customers make informed decisions on the perfect fit for their purchases. With accurate size charts and helpful guides from Avada, clients can be confident that they are selecting the correct sizing; eliminating costly returns and refunds.
Avada, a Shopify-based app with over 882 reviews and an impressive five star rating, has been lauded for its various user-friendly features. Many customers have praised the platform's ability to create custom product size charts as well their exceptional customer service team who respond quickly to inquiries. All in all Avada appears set apart from competitors by offering users great tooling capabilities that they love!
G. Galleries and look books
Fashion stores looking for a visually stimulating way to showcase their products can benefit from Lookbook Shoppable Gallery. This Shopify app enables users to create interactive galleries that link each product with its respective page, enabling effortless shopping experiences for customers.
Shopify's Lookbook app has become highly acclaimed on the platform, garnering a glowing 4.9 rating and over 198 customer reviews – an impressive feat indeed! The majority of customers have praised its user-friendliness as well as highlighted how quickly they receive responses from the developer when needed. With flexible gallery formats and seamless tagging capabilities allowing for simple image uploading, it truly is no wonder why many people rely upon this efficient 'shop the look' tool to help enhance their homepage or other pages across their website.
F. Other helpful apps
Swatch King Variant Options (Swatches)
Swatch King Variant Options (Swatches) is an app that helps fashion stores display product variations in a visually appealing way. The app allows fashion stores to easily create swatches for product variants such as color, size and material. It also offers a range of features such as bulk editing, product filtering and product sorting.
UpPromote: Affiliate Marketing
For fashion stores looking to boost their sales, UpPromote: Affiliate Marketing can provide the perfect solution. This innovative app allows businesses to easily manage and track affiliate programs while taking advantage of influencer marketing opportunities. Plus, with features such as commission tracking, automated referral notifications and promotional materials at hand – it's a comprehensive tool for maximising success!
Smile: Rewards & Loyalty is revolutionizing the fashion industry with its comprehensive loyalty platform. It enables stores to engage customers in an easy and effective way, offering tailored rewards that fit their individual needs as well as automated notifications so they never miss out on a promotion or reward program again. The app also gives retailers insight into customer behavior through advanced analytics capabilities, helping them make data-driven decisions for sharper marketing strategies.
Fashion stores now have the ability to optimize their online presence with ease, courtesy of SEOAnt's innovative and comprehensive app. It offers a suite of features, such as automated image optimization, keyword tracking and analytics – granting users immediate insights into how they are performing in terms of search engine optimization (SEO). Streamline your fashion store today!
Final thoughts
Fashion merchants can look forward to a successful 2023 with the help of powerful Shopify tools and apps. 14 must-haves optimized for fashion stores equip them with everything they need to managed their store, maximize sales, and provide an unparalleled shopping experience for customers – from automating customer service interactions to improving UX features that drive up revenue potential. Take advantage now!
At Apptile, our goal is to empower you to create personalized experiences that showcase your brand in the best possible light irrespective of your business size or budget.
Get started now and create stunning mobile apps in seconds without any coding. Book a demo with our team to see how Apptile can help you transform your business for the mobile era. We would love to hear more about your brand's mobile app vision and help you bring it to life. Also, follow us to stay ahead of the eCommerce game and join the conversation today!