Shopify is a platform that makes it easy for business owners to create and manage an online store. It offers a range of features that allow business owners to set up and customize their store, add and manage products, process payments, and handle shipping and fulfillment. The platform is designed to be user-friendly, helping business owners streamline their workflow and reduce the time they spend on repetitive tasks.

Before we dive into our top picks for the best Shopify apps for your business, let's go over some things to consider when choosing the right apps for your eCommerce store. This will help you make sure you're getting the apps that will actually help your business grow and succeed!

Key Factors to Consider When Choosing a Best Shopify App
There are various factors to consider when choosing a Shopify app for your eCommerce store.
App's features and functionality
It's essential to consider the app's features and functionality to ensure that it meets your needs and supports your business goals. For example, if you're looking for an app to help with product management, you'll want to find one that offers features such as inventory management, product variants, and bulk editing.

User ratings and reviews
Reading reviews from other users can give you valuable insight into the app's strengths and weaknesses and help you decide whether it's the right fit for your store.

Store compatibility
It's also important to consider the app's compatibility with your store and other apps you may be using. Some apps may only work with specific themes or require additional plugins or integrations to function correctly. Ensuring that an app is compatible with your store and other tools can save you time and frustration in the long run.

Customer Support and Documentation
It's a good idea to check out an app's customer support and documentation before you buy. Apps that have good support and clear documentation will be easier to set up and use, and they'll be there to help you out if you run into any issues. Trust us; this will save you time and hassle in the long run. Plus, it'll help you get the most out of the app for your store.

Quick Installation and Onboarding
If the app is difficult to install or the onboarding process is complex, it can take up a lot of your time and resources. This can be frustrating and may even discourage you from using the app. On the other hand, an app with a straightforward installation process and clear onboarding instructions can save you time and make it easier to get started using the app. Quick and easy installation and onboarding can be crucial if you are new to using Shopify apps or need more technical expertise.

Scalability
Scalability is an important factor to consider when choosing a Shopify app because it determines the app's ability to handle increased workloads without experiencing performance issues. If an app is not scalable, it may become slow or unstable as the number of users or transactions increases, which can lead to a poor user experience and potentially harm the reputation of your business.
Cost Cost is an important factor to consider when choosing a Shopify app because it can significantly impact your budget and profitability. Here are a few things to consider when evaluating the cost of a Shopify app:
Subscription fees: Some Shopify apps charge a monthly or annual subscription fee. This fee can range from a few dollars to hundreds of dollars per month, depending on the features and level of service offered.
One-time fees: Some Shopify apps charge a one-time fee for their service, rather than a subscription fee. This can be a good option if you only need the app for a specific project or short-term use.
Transaction fees: Some Shopify apps charge a percentage of each transaction made through the app. This can add up quickly if you have a high volume of sales.
Hidden costs: Be sure to read the fine print and understand any hidden costs that may not be immediately apparent. For example, some apps may charge additional fees for advanced features or support.
Following are the top Shopify apps in various categories for merchants to grow their businesses –
Sales and Marketing
Klaviyo is a cloud-based email marketing and automation platform designed specifically for e-commerce businesses. It allows businesses to create targeted email campaigns, segment their email lists, and automate email marketing efforts. Klaviyo provides a range of features, including customizable templates, real-time analytics, and integrations with social media platforms. Klaviyo is designed to help businesses increase customer engagement, conversion rates, and revenue by providing personalized and relevant communication to their customers.
Key features
Email marketing: Klaviyo allows businesses to create, send, and track the performance of email campaigns, including newsletters, abandoned cart emails, and promotional emails.

Segmentation: Klaviyo provides a range of tools for segmenting email lists based on customer behavior, purchase history, and other data points. This enables businesses to send targeted and personalized emails to specific groups of customers.

Automation: Klaviyo offers a range of automated email campaigns, including welcome emails, birthday emails, and win-back campaigns.

Integrations: Klaviyo integrates with various e-commerce platforms, social media platforms, and other tools, allowing businesses to seamlessly integrate their email marketing efforts with their other marketing and sales efforts.

Personalization: Klaviyo provides tools for personalizing emails based on customer data, such as name, location, and purchase history.

A/B testing: Klaviyo offers A/B testing capabilities, allowing businesses to test different subject lines, email content, and other elements to see which performs best.

Customizable templates: Klaviyo provides a range of email templates, allowing businesses to create professional-looking emails without coding skills.
Klaviyo offers a range of pricing plans based on the number of monthly emails sent and the features included. The pricing is based on a monthly subscription model, and the basic plan starts from $20 per month.
ReferralCandy helps online merchants to set up and automate referral and affiliate programs Shopify and Shopify Plus stores and run them on autopilot. A referral program is the best way to retain customers and reward them when they refer new paying customers to the store. Customers get a personal referral link that they can share with their friends to promote the brand. Reach new customers, grow your brand through word-of-mouth, and build customer loyalty through a refer-a-friend program.
Key features
Automated customer rewards: Choose from discount coupons, percentage discounts, cash, and custom rewards!
Post-purchase popups and emails: Recruit existing customers to the referral program.
Referral fraud management: Identify and review customers with suspicious transactions.
Customizations: customize landing pages and emails with logos, images, and brand colors usinge the theme editor—no developer help is needed.
Localization: Display your copy in up to 12 languages.
Integrations: Create referral campaigns with MailChimp and Klaviyo email flows and newsletters.
Pay per performance: works on a commission model. ReferralCandy doesn't get paid until you make referral sales.
ReferralCandy offers a 30-day free trial. The premium plan starts from $47 per month on the annual plan + 3.5% commission fee on referral sales.
Sensorpro has everything you need for ecommerce email and SMS. Packed with features such as automated workflows, subscriber segmentation, A/B testing, templates, forms & popups, polls & surveys, abandoned cart emails, and seamless integrations with all your favorite tools. Our priority is to make sure you get the best results from your email campaigns, which is why our support team is available via phone and live chat to answer all your questions. With our in-house sending infrastructure, you'll enjoy superior deliverability and total control over your inboxing.
Key features –
Nocode Email designer with 80+ layouts.
Send welcome series emails on autopilot.
Import contacts outside of Shopify.
Revenue attribution, know which email works best.
Timezone sending, send emails when customers are awake.
Pause emails option
Generate email template from Collections
Evaluate subject lines with chatGPT
Paid plans from $15/mo
Privy is a Shopify app that allows businesses to create and manage email campaigns, exit-intent pop-ups, and other forms of on-site messaging. Privy offers a range of features to help businesses increase email sign-ups, conversions, and revenue.
Some key features of Privy include –
Email campaigns: Privy allows businesses to create and send targeted email campaigns, including newsletters, abandoned cart emails, and win-back campaigns.

On-site messaging: Privy provides tools for creating and managing on-site messaging, including exit-intent pop-ups and banner ads.
Real-time analytics: Privy provides real-time analytics and reporting tools, allowing businesses to track the performance of their email campaigns and on-site messaging efforts and make data-driven decisions.
Mobile optimization: Privy's email campaigns and on-site messaging are optimized for mobile devices, ensuring they look great and function properly on smartphones and tablets.
Advanced targeting: Privy provides advanced targeting options, allowing businesses to create and run targeted campaigns based on customer location, device type, and other factors.
Customer data integration: Privy integrates with customer data from your e-commerce platform, allowing you to create personalized campaigns based on customer purchase history and other data points.
Privy starter plan starts at $15 per month. Higher plans vary based on the number of Emails and SMS contacts to engage with.
PushOwl is a push notification service that allows e-commerce businesses to send targeted, personalized push notifications to their customers. The service can be used to send notifications about new products, abandoned cart reminders, order updates, and other types of messaging. PushOwl integrates with e-commerce platforms such as Shopify, WooCommerce, and BigCommerce, and offers a range of features, including segmentation, automation, and analytics. PushOwl aims to help businesses increase customer engagement and sales by delivering timely and relevant notifications to their customers.
Here are some key features of PushOwl:
Segmentation: PushOwl allows you to segment your audience based on factors such as location, purchase history, and product preferences, so you can send targeted, personalized notifications.
Automation: PushOwl offers a range of automation features, including abandoned cart reminders, order updates, and personalized product recommendations.
Analytics: PushOwl provides analytics and tracking tools to help you measure the effectiveness of your push notification campaigns.
Multiple channels: PushOwl supports multiple channels for sending push notifications, including web push notifications, mobile push notifications, and email.
Integration: PushOwl integrates with a range of e-commerce platforms, including Shopify, WooCommerce, and BigCommerce.
Customization: PushOwl offers a range of customization options, including the ability to customize the look and feel of your push notifications and the ability to schedule notifications in advance.
A/B testing: PushOwl allows you to test different versions of your push notifications to see which ones perform the best.
Multi-language support: PushOwl supports multiple languages, so you can send push notifications in the language of your choice.
PushOwl offers a 'Free Forever' plan which allows users to collect unlimited subscribers. PushOwl's business plan starts from $19 per month.
Analytics and Reporting
SuperCEO helps you get your daily business metrics on your mobile app and email daily. You can get accurate store sales insights to track your store's growth from the total sales, new VS repeat customers, to the average order value on a single tap. It also helps you learn your daily business metrics instead of making decisions from your gut feeling.
Here are some key features of SuperCEO:
Real-time insights on your mobile and email: You can get tailored real-time store metrics on your mobile & email every morning.
Monitor revenue, cost, and profitability metrics: Now, you can unlock your store's revenue growth with crucial metrics. Discover trends & insights to drive growth.
Deep dive into data: Compare sales metrics by days, weeks, and months & discover insights and trends.
Updates via notification: Get notifications on your mobile for critical sales metrics.
Pricing details
SuperCEO is completely free forever.
With Report Pundit, you'll have a flexible reporting system to access all Shopify data and create custom reports for your unique needs. Includes 80+ pre-made reports, with live chat here to assist! We also help build cohort tables, charts, and dashboards. Available report categories include Sales Reports, Products, Inventory, Taxes, Orders, Payouts, Transactions, Fulfillment, Cart Attributes, POS, Customers, Third-Party applications, and more. You can export the reports in Excel, CSV, PDF.
Here are some key features of ReportPundit –
1. Fully Loaded Template Library
Report Pundit provides more than 80 pre-built report templates optimized for sales activity, products, inventory, customers, taxes, and more.
2. File Destinations & Formats
It offers flexibility to choose How (CSV, Excel (XLSX), PDF, JSON formats), Where(Direct Download, Shared URL, FTP, Email, Third-Party Apps), and When (Hourly, Daily, Weekly, or Custom Schedules) to send personalized e-commerce reports.
3. Precise Report Schedules
You can schedule daily, weekly, or monthly Shopify inventory emails.
4. Integrate with Popular E-commerce Software
Report Pundit offers integrations with 30+ third-party applications for a seamless workflow.
Report Pundit pricing is based on the merchant's Shopify account type. Report Pundit offers a "Free Forever" plan with limited features. The basic plan starts from $9 per month.
Lifetimely LTV & Profit
Lifetimely provides detailed reports to track profit, calculate lifetime value and marketing analytics, and identify patterns in customer purchase behavior to the merchants. Integration with other Shopify apps put all of your data under one roof, while our customizable P&L dashboards, shareable email reports, CAC payback tools, and industry-leading cohort analysis will eliminate your spreadsheets and help you make more profitable data-driven business decisions.
Here are some key features of Lifetimely LTV & Profit:
1. An automated Profit & Loss report with 10+ marketing and shipping integrations
2. Custom dashboards and email reports with your choice of KPIs
3. Advanced cohort analysis filters, variable metrics, and CAC payback calculators
4. Month-to-month projections of LTV and revenue for your existing customer base
5. 7+ in-depth reports that reveal your customers' repeat buying habits
Lifetimely offers a 14-day free trial. And basic plan starts from $19 per month.
Payments & Subscription
Recharge is one of the best subscription management solutions in the Shopify ecosystem. It helps merchants to make their business Scalable(Grow your subscription business with Recharge and enable your customers to fully manage their subscriptions directly from your store), Customizable(Leverage Recharge's customization capabilities to create the subscription experience you envision.), Integrated(Take advantage of turnkey integrations that'll connect your tech stack)
Here are some key features of Recharge:
Acquire new customers
Recharge helps you meet your shoppers' needs by giving them options for smooth checkout. You can redirect buyers straight to checkout via a direct marketing link, with the right product and subscription interval already in their cart.
Boost average order value
Combine multiple items into one curated box, let customers build a bundle, or add a one-time item to a subscription order, increasing AOV for all shoppers.
Maximize lifetime value
When shopping experiences are easy, customers stick around. Enable them to swap an item through a quick text message or securely login to their customer portal with no password needed.
Robust integrations
Recharge supports stores that sell on Shopify, Shopify Plus, BigCommerce, and custom headless builds and offers stable and powerful integrations with leading technology partners such as Klaviyo and Gorgias to help you seamlessly scale your business.
Recharge's Standard plans start with no monthly fees; instead, they charge 1% + 10¢ per transaction. Recharge offers custom pricing for enterprise accounts.
Appstle offers the most powerful recurring order features in the e-commerce ecosystem. It provides comprehensive and efficient subscription management tools, loyalty benefits, churns control, and many more features.
Here are some key features of Appstle℠ Subscriptions –
Complete control over the experience
Appstle's easy-to-use admin dashboard provides management features and automation, ensuring complete control over your customer's subscription experience.
Out-of-the-box growth tools
Get access to an array of subscription widgets that help grow your subscriber base. Create upsells, bundles, build-a-box features, and more in a few clicks.
Scale with growth-focused analytics
We help your team dive deep into your subscription analytics with growth-focused metrics. When forecasting upcoming orders, get down to the product level, or dive into customer LTV data.
24/7 customer support in minutes
Our team of support engineers actually knows what they're talking about. Get access to Shopify experts who can help guide your growth at any scale.
Appstle offers a 10-day free trial and a "Free Forever" plan until your store reaches $500/month in subscription revenue. No transaction fees are applied. The starter plan starts at $10 per month.
Personalizations
ModeMagic automates back-end tasks like creating custom labels, up-selling and cross-selling products through live sales + discounts, and showcasing the latest bestsellers. ModeMagic also helps you stay organized with automated inventory alerts and launches new arrivals to help you convert more customers at a time when they're most eager to purchase. So that you can focus on more business strategies to increase revenue streams.
Inventory control can often become challenging for store owners. This particular, it becomes a lot easier. It will tell you when you have run out of stock on any product and automatically update pricing depending on discounts and the latest bestsellers!
ModeMagic offers a 7-day free trial; post that, you can opt for any of its plans starting at $9/month.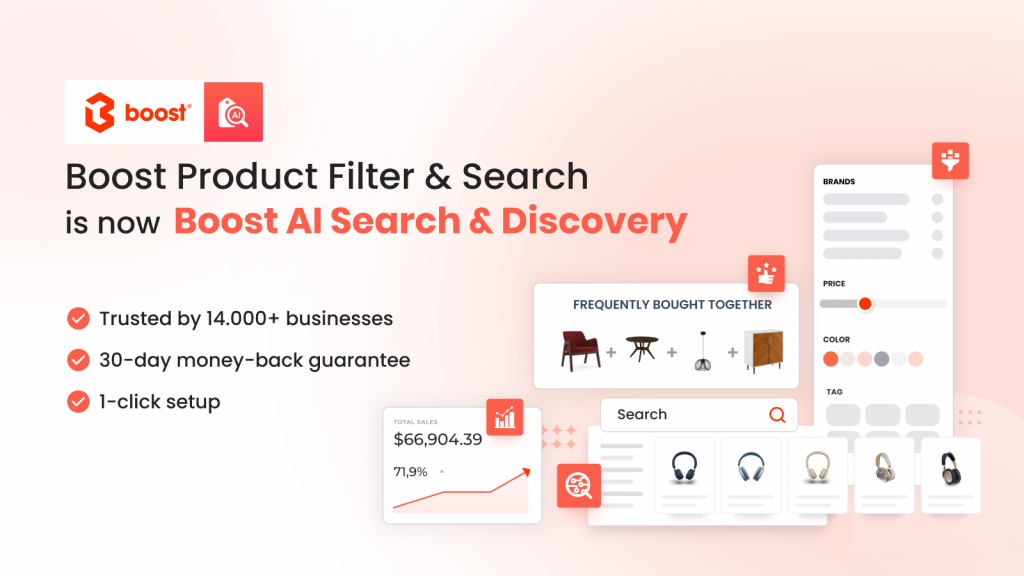 Boost AI Search & Discovery is a go-to Shopify app for intelligent search and filtering. It provides Shopify merchants with robust product filter trees, various options and display settings, intelligent search capabilities for hyper-relevant results, valuable tools for site search merchandising, product recommendations, and analytical reports that indicate consumer behaviors.
Boost AI Search & Discovery by Boost Commerce is a popular Shopify software for intelligent search and filtering. It offers advanced and highly customizable product filter trees with various options and display settings to deliver hyper-relevant results. Likewise, the app provides valuable tools for site search merchandising and analytical data showing Shopify merchants' consumer behaviors.
Best used for:
High-powered product filtering to enhance faceted navigation that navigates shoppers to their preferred products within milliseconds.
Advanced AI search solutions support Full-text Search, Synonyms, Typo Correction, Search Suggestion Dictionary, and more to deliver hyper-relevant results driving more sales.
eCommerce merchandising helps promote the right products to the right consumers automatically and increases conversion rates.
Collection and search analytics give store owners data-driven insights about customers' behavior for better business strategies.
Highlight features:
Create Shopify collection filters by product options, variants, tags, meta fields, etc., with different styles to find the products quickly.
Improve your Shopify search bar performance with AI-powered search features: AI synonyms, scoped search, instant suggestions, spellcheck, typo tolerance, and catalog redirect.
Engage shoppers to spend more with smart product display through a filter page, search bar, and search results page.
AI-based product recommendations to kick off various upselling and cross-selling strategies to squeeze non-stop sales.
Report on revenue, popular search queries, & 'no results' cases.
SEO and mobile optimization with fast performance.
Support Shopify Online Store 2.0 & theme app extension.
Pricing:
A 14-free day trial is available. From $19/month
Nosto helps retailers build, launch, and optimize personalized commerce experiences for their buyers without needing dedicated developers' help. Nosto is a widely used commerce experience platform across Shopify and Shopify Plus merchants.
Here are some key features of Nosto –
Product Discovery – Powerful tools to show the right product at the right time per user needs.
Personalization – It helps make the buying experience unique for every single shopper every time.
Content – Tailored content and authentic UGC to increase conversions.
Segmentation and Insights – Dive deep into the things that make your shoppers tick.
Merchandising – Compelling product pages with complete control over merch rules
Nosto is free to install. The premium plan's pricing is based on the type of plan and traffic volume.
Landing page builder
Shogun is a landing page builder with the capability of a drag-and-drop page editor for different types of pages like landing pages, collection pages, category pages, products, blogs, homepages,s, etc. You can use the pre-built templates to design your pages instantly. Shogun offers integrations with marketing tools like Klaviyo to integrate forms on pages and control on-page SEO.
Here are some key features of Shogun –
Supported page types – Landing pages, Collections, Blogs, Products, Homepage, etc.
Customization – Editable theme sections to make changes directly to your theme.
Element Library – This includes timers, accordions, add-to-cart buttons, videos & more.
Drag-and-drop – layout control for precise design for all page types.
Shogun offers a free plan for two user accounts with limited features. The basic plan starts at $39 per month for two user accounts & 25 pages.
PageFly is a landing page builder to build custom pages per the store's theme and styling. You can adapt and make your store quickly for any sales campaign with an easy-to-use drag-and-drop feature. All controls are with you; you can personalize the page from pixel to overall how it will look. Pagefly also integrates with other tools like Facebook Pixel, Bold Bundles, Ali Review, Aftership, Klaviyo Marketing, Growave, etc.
Here are some key features of Pagefly –
1. Build a structure with a Slideshow, Block, Tab, Accordions, Table, Content List
2. Define funnels, flows, data sources, and style with element configuration
3. Boost conversion with Sale Countdown, Badges, Forms, Variant Options Swatches
4. Auto-responsive for mobile and tablet display. Cross-device editing for all screens
5. Build fast with AutoSave, Global Styling, Global Section, and Lazy Loading.
Pagefly offers a free forever plan with limitations to the number of pages users can publish. The basic plan starts at $24 per month and varies based on the number of slots users need.
Product Reviews
Judge.me is a fast-loading, fully customizable review app in 37 languages. Schedule automatic emails to get reviews with photos and videos after order fulfillment or delivery, or import them from other apps. Improve your conversion rate by showing reviews and UGC on your storefront widgets, sharing them on social media, and adding stars on Google for SEO. Setup is easy and tailored to your store: customize widget texts, colors, and themes, or ask our 24/7 support team for basic design tweaks.
Here are some key features of Judge.me –
1. Unlimited email review requests with photo and video, and in-email review forms
2. Display star ratings, store and product reviews, trust badges, reviews carousel
3. Share reviews on Facebook, Instagram, Twitter, rich snippets, and Google Shopping
4. Synchronize and group product reviews across different products and stores
5. Engage your reviewers with Q&A, coupons, and email marketing integrations
Judge.me offers a Forever Free plan with limited features. Paid plan starts at $15 per month.
Loox is a one-stop solution for social proof that helps you build and scale your brand. Loox helps you to collect product reviews with photos and videos from your customers, and you can display reviews in beautiful widgets to build trust with your store visitors. It is fully customizable to fit your brand look, supports multi-lingual stores, integrates with your tech stack, and operates on auto-pilot.
Here are some key features of Loox –
Send automatic review request emails, and offer discounts for adding a photo/video.
Display reviews in beautiful widgets: Grid, List, Carousel, Popup, and Sidebar
Integrate with Google Shopping. Loox is an official Google Reviews Partner.
Auto-generate referral links to reward customers for referring friends
Increase order value by leveraging social proof in post purchase upsells
Loox offers a 14-day free trial for users to play around with the product before switching to a paid plan. The beginner plan starts at $9.99 per month, and the different plan varies based on Total orders and the number of Automatic review requests.
Support / Post-purchase
Gorgias is a customer service platform for fast-growing eCommerce merchants. You can centralize every order, every conversation, and even social comments and DMs, all in one customer ticket view. Reduce checkout friction with self-service resources that provide instant answers or use dynamic Macros to auto-fill responses with personalized info. And turn your agents into sales reps.

Here are some key features of Gorgias –
Prioritize email, chat, voice, SMS, and social media (comments/DMs) in a single feed
Get full customer context before answering, with order and conversation history.
View, edit, and cancel Shopify orders without leaving the Gorgias customer view.
Improve your support: Track team activity and support metrics on live dashboards
Instantly answer shopper questions with self-service menus — no agent required.
Gorgias offers a 7-day free trial. The starter plan starts at $10 per month, and higher plans vary based on the number of customer support agents and tickets per month included.
It is a customer experience platform that enables online stores to provide excellent customer service and turn passive visitors into active buyers. It has ready-to-use sales and support chatbots that increase revenue and immediately answer the most common questions of your customers. Managing all your customer messages in one place makes Tidio a simple yet strong helpdesk solution for your team. With dedicated Shopify features, it's even more efficient!
Here are some key features of Tidio –
1. Talk to your visitors on the live chat – quickly solve problems and sell proactively
2. Use pre-made chatbot strategies to solve problems and increase sales
3. Preview carts, check order history and recommend products directly in the chat
4. Add Tidio to your Shopify store in 30 seconds – just click Add App
5. Manage and resolve customers' requests with a simple ticketing system
Tidio offers a Free Forever plan with a limited number of chat operators and live chat conversations. The basic plan starts at $19 per month.
At Apptile, our goal is to empower you to create personalized experiences that showcase your brand in the best possible light irrespective of your business size or budget.
Get started now and create stunning mobile apps in seconds without any coding. Book a demo with our team to see how Apptile can help you transform your business for the mobile era. We would love to hear more about your brand's mobile app vision and help you bring it to life. Also, follow us to stay ahead of the eCommerce game and join the conversation today!